Xiaolong Guo | Assistant Professor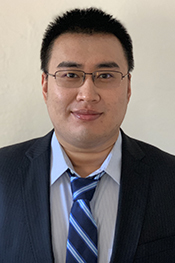 Ph.D. - 2019, University of Florida
Department of Electrical and Computer Engineering
M.S. - 2013, Beijing University of Posts and Telecoms
School of Information and Communication Engineering
B.S. - 2010, Beijing University of Posts and Telecoms
International School
B.S. - 2010, University of London
School of Queen Mary
Contact information
3091 Engineering Hall
785-532-5600
guoxiaolong@k-state.edu
Professional experience
Prior to joining the faculty at Kansas State University, Xiaolong Guo had been a research assistant in the Warren B. Nelms Institute for the Connected World, as well as the Florida Institute for Cyber Security (FICS), both at the University of Florida, from 2017 to 2019. He had also been a lab instructor in the electronic engineering department at the University of Central Florida, from 2013 to 2017.
Research
His general research interests are in the area of hardware security, third-party IP protection, formal verification and program analysis, as well as language-based security. Specifically, his current work covers three areas:
Proof-carrying, hardware (PCH)-based hardware security verification, where the PCH framework is used to provide a comprehensive and effective security solution at different stages in the IC supply chain;
Analog/mixed-signal domain Trojan design and detection, a systematic method of investigation to detect a large class of analog Trojans — one of the first works looking into hardware security vulnerabilities caused by analog properties in digital design; and
Security hardware description language, whereby a new hardware description language is proposed to evaluate the vulnerability of information leakage in hardware.
Academic highlights
Guo has authored two book chapters, nine journal papers and 16 conference papers. He has 16 first-author publications as well as 14 publications that have appeared in premier ACM/IEEE journals and conferences. He received the Best Paper Award in the Design Automation and Test in Europe (DATE) 2019, and has served as a technical reviewer and technical program committee member for several journals and conferences.