Jungkwun Kim | Assistant Professor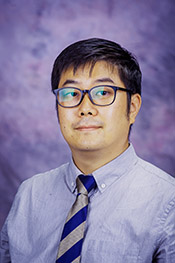 Michelle Munson-Serban Simu Keystone Research Scholar
Sr. Research Engineer - 2016, UPenn
Singh Center for Nanotechnology
Postdoc - 2013, Georgia Tech
Electrical and Computer Engineering
Ph.D. - 2011, SUNY at Buffalo
Electrical Engineering
M.S. - 2007, SUNY at Buffalo
Electrical Engineering
B.S. - 2005, SLU, Philippines
Electronics and Communications Engineering
Contact information
3079 Engineering Hall
785-532-4569
jkkim1324@k-state.edu
Personal Webpage
Professional experience
Jungkwun Kim joined the department of the electrical and computer engineering at the Kansas State University as an assistant professor in 2016. He was a research faculty at the University of Pennsylvania from 2013-2016 and has two years of experience as a post-doctoral fellow at the Georgia Institute of Technology from 2011–2013. He earned his master's and doctorate from the State University of New York at Buffalo in 2007 and 2011, respectively.
Kim has intensive research experiences on U.S. government sponsored projects including three Advanced Research Projects Agency-Energy (ARPA-E) programs (2011-2016). One of the ARPA-E programs primarily aimed to develop a high-efficiency compact power converter. His role during this project was to design and develop the micro inductors and integrate those into a compact high-efficiency power converter. The project was successfully carried out with the result of the power conversion efficiency up to 93% (40W operation and the volume of 2.5 cm3). This is currently the smallest volume and the highest efficiency among the similar specs.
Research
Kim's research group is dedicated to advancing microfabrication and nanotechnology with an emphasis on new approaches to fabricate devices with characteristic lengths in the micro to nanoscale from both silicon and non-silicon materials; and demonstrating these devices in multiple application spaces ranging from biomedical structures and devices to energy storage, harvesting, and conversion.
His group strives to not only create new knowledge in the science and technology of N/MEMS fabrication and related application spaces but also to foster the transfer of technology through creation and facilitation of new micro- and nano-enabled commercial products. Research projects in the Nano/Micro Fabrication Laboratory all share the common thread of modeling, design, fabrication, and testing of microscale and nanoscale structures, and/or systems that are enabled by such structures. Some current research thrusts include the following areas: a high-efficiency micro power electronic device, flexibility on an energy storage device, a cost-effective versatile 3-d microfabrication method, and a bio-implantable and degradable RF sensor for human health monitoring.
Academic highlights
Published more than 50 journal articles, conference proceedings and patents
Topic editor for Frontiers in Bioengineering and Biotechnology
Served as a referee on five major journals
Created five journal cover pages
Received the Art and Science Award, NIST, 2009
Received the Global Tech-consultant Award, Korea Institute of Advanced Technology (KIAT)