Personal Webpage of Dr. Miller
---
Office:
280 Rathbone Hall
Electrical and Computer Engineering
Kansas State University
Manhattan, KS 66506-5204
(785)532-4596
Photo: Monarchs on Goldenrod in our garden during Fall migration, October, 1996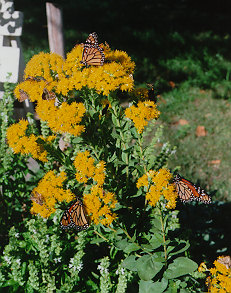 ---
Solar Car Photos and Movies
---
Research Interests
Kansas Wind Applications Center

"Wind for Schools in Kansas: a Second-Year Progress Report"; Windpower 2009, Chicago, IL, 4-8 May, 2009 (pdf).

"Renewable and sustainable energy use
Solar Decathlon Design Competition, Fall 2007
Health effects of power-frequency electric and magnetic fields: for more information check out the EMF Home Page
Environmental magnetic field strengths near transmission lines and substations
Electromagnetic properties of biological tissue
Magnetic tomography for precisely locating steel reinforcement in roadbed concrete
Spring 2013 Office Hours
9:30-10:30 am Monday, 2:30-3:30 pm Wednesday and Friday.
These are times I promise to be in my office, but please feel free to stop in any time my office door is open. If I am busy I will tell you so. If we seem to have a perpetual schedule conflict, call or e-mail me to set up an appointment.
Spring 2013 Courses
Lecture: M, W, F 11:30am, RA 1061
Meeting: M 2:30 pm, RA 1061

KSU Honour System
The following is taken from the Faculty Handbook, Appendix F: "The Honor System is an assumption of trust which accompanies the student in all dealings with fellow students, faculty, and administrators. The atmosphere of trust grounded in this assumption of honor enables every student to know his or her word will be taken as true and to compete fairly in the classroom."
" The acceptance of individual responsibility is essential to our community of trust. The foundation of the Honor System depends entirely upon the willingness of every individual to live up to the standards set by fellow students, faculty, and administration. If we are to enjoy the benefits of a community of trust and integrity which the Honor System fosters, we must hold ourselves to the basic principles of honesty: we must never lie or cheat. In order to safeguard the privileges offered by the Honor System, we must respond forthrightly and proactively with those students who have disregarded the principles of honesty."
The Kansas State University Honor System is defined by the following Honor Code:
KSU students will not give or receive aid in examinations; they will not give or receive unpermitted aid in class work, in the preparation of reports or in any other work that is to be used by the instructor as the basis of grading.
KSU students will do their share and take an active part in seeing to it that others as well as themselves uphold the spirit and letter of the Honor System. This includes reporting an observed dishonesty.
I expect that engineering students in my classes, as engineers in training, will adhere to this Code as well as to the IEEE Code of Ethics where applicable. To assist students in their efforts to follow these Codes, I have prepared a webpage on How to Credit Others' Work.
Interesting Links
Local (Campus) Links:
National Professional Society Links:
Miscellaneous Other Places I like to keep track of:
Ruth Douglas Miller
rdmiller@ksu.edu