Charles Carlson | Teaching Assistant Professor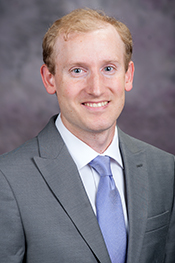 Ph.D. - 2019, Kansas State University
Electrical Engineering
M.S. - 2015, Kansas State University
Electrical Engineering
B.S. - 2013, Kansas State University
Electrical Engineering
B.S. - 2013, Fort Hays State University
Physics
Contact information
3082 Engineering Hall
cwcarl@k-state.edu
Professional experience
Charles Carlson received a B.S. degree in physics from Fort Hays State University in 2013 as well as B.S., M.S. and Ph.D. degrees in electrical engineering from Kansas State University in 2013, 2015 and 2019, respectively. In 2015, from January to July, he worked as a radio frequency engineer at Black & Veatch in Kansas City.
He is a member of the Institute of Electrical and Electronics Engineers (IEEE) and the IEEE Engineering in Medicine and Biology Society (EMBS). He is a faculty co-advisor for the K-State IEEE EMBS student chapter.
Research
Carlson has been involved in numerous research activities ranging from low-power FPGA receiver architectures for energy-harvesting sensor networks to the development of a smart-bed-based system designed to monitor unobtrusively the sleep of children with lower-functioning autism.
Academic highlights
Carlson has authored or co-authored six engineering education-related conference publications. In 2018, he was awarded the Engineering Open House Best in Class Graduate Student Display Steel Ring Award. He also received the 2018-19 Award of Excellence for Outstanding Contributions in Graduate Teaching from the K-State electrical and computer engineering department.