Don Gruenbacher | Department Head and Associate Professor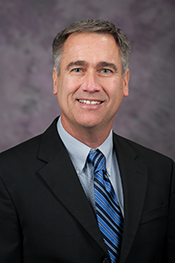 George J. and Alice D. Fiedler Distinguished Chair in Electrical and Computer Engineering
Ph.D. - 1994, Kansas State University
Electrical Engineering
M.S. - 1991, Kansas State University
Electrical Engineering
B.S. - 1989, Kansas State University
Electrical Engineering
Contact information
3109 Engineering Hall
785-532-4692
grue@k-state.edu
Professional experience
Don Gruenbacher received a bachelor's in electrical engineering in 1989, a master's degree in 1991, and a doctorate in 1994, all from K-State. Gruenbacher was a member of the senior staff in the space department of the Johns Hopkins University Applied Physics Laboratory between 1989-1990 and 1994-1997. He joined K-State as an assistant professor in 1997, and was promoted to associate professor in 2002. Gruenbacher has served as the head of the Mike Wiegers Department of Electrical and Computer Engineering since 2007.
Research
Gruenbacher' s research activities are focused in the areas of computer networks, communications and digital design. Currently, his work in Software Defined Networks is in the development of architectures and protocols for secure and robust communications to support cyber physical systems such as the smart grid. In addition, he works on the design of digital systems through hardware description languages for applications that are network connected such as the Internet of Things (IoT). Gruenbacher has also worked on the design and analysis of interconnection networks for high performance computing platforms.
Academic highlights
Gruenbacher's career at K-State includes over 45 journal and conference publications in his technical research areas as well as 12 publications in engineering education conference proceedings. He has supervised seven doctoral and 18 master's students during his career at K-State. In 2001, he was recognized by the K-State Mortar Board as an outstanding faculty member, and in 2003 he was named the Eta Kappa Nu outstanding faculty member for the department.