William Hageman | Assistant Professor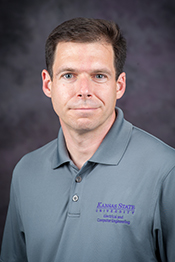 Daniel and Judi Burk Cornerstone Teaching Scholar
Ph.D. - 2010, University of Central Florida
Optics
M.S. - 2008, University of Central Florida
Optics
M.S. - 2002, Kansas State University
Electrical Engineering
M.S. - 2000, Kansas State University
Physics
B.S. (Honors) - 1999, Kansas State University
Physics
Contact information
3092 Engineering Hall
785-532-2149
whageman@k-state.edu
Professional experience
Professor Hageman received his Bachelor of Science in Physics from Kansas State University in 1999, followed by Master of Science degrees in Physics in 2000 and Electrical Engineering in 2002. From 2002 to 2005, he worked for Honeywell's Kansas City plant, a Department of Energy facility, where he was employed as an engineer specializing in laser and optical systems design. In 2005, he received a fellowship to attend the College of Optics at the University of Central Florida where he worked under the tutelage of Dr. Michael Bass, and received his Master of Science in 2008 and Doctor of Philosophy in 2010, both in Optics. In 2010, he returned to Kansas State University as a faculty member, working in both the physics and electrical and computer engineering departments. Since 2012, he has been a wholly owned subsidiary of the Mike Wiegers Department of Electrical and Computer Engineering.
Research
Hageman's primary focus at this time is teaching and STEM education research. His past focus has been primarily in the temperature stabilization and field-ability of high power laser systems, and the development of novel high power fiber laser systems and pump techniques.
Academic highlights
Hageman is published in a wide range of areas including physics, optics, electrical engineering, chemical engineering and education research. He holds a patent for a fiber laser pump technique and knows a guy who knows a guy who once won a Nobel Prize.