Behrooz Mirafzal | Professor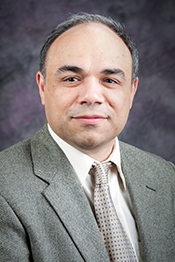 Louie T. Marshall Engineering Professorship
Michelle Munson-Serban Simu Keystone Research Scholar
George Yeh Keystone Research Scholar

Ph.D. - 2005, Marquette University
Electrical Engineering
B.S. - 1994, Isfahan University of Technology
Electrical Engineering
Contact information
3089 Engineering Hall
785-532-4641
mirafzal@k-state.edu
Personal Webpage
Professional experience
Behrooz Mirafzal received his bachelor's degree from Isfahan University of Technology, Isfahan, in 1994, and his doctorate from Marquette University, Milwaukee, Wisconsin, in 2005, all in electrical engineering. Prior to his doctoral studies, he was a power engineer, as well as a lecturer, with several academic institutions in Isfahan. From 2005-08, he was with Rockwell Automation/Allen-Bradley, Mequon, Wisconsin, first as senior development and then promoted to a project engineer, where he was involved in research and development related to magnetic design and high-frequency reflected wave phenomena in motor-drive systems. During the time he was employed at Rockwell Automation, he was an adjunct faculty at Marquette University, and a lecturer at the University of Wisconsin Milwaukee. From 2008-11, he was an assistant professor at Florida International University, Miami, Florida. In 2011, he joined Kansas State University and established the power electronics research laboratory. He is currently a full professor in the department of electrical and computer engineering at Kansas State University.
Research
Professor Mirafzal is the founder and director of the Power Electronics Research Laboratory at Kansas State University. He is a research leader in the smart inverters and power electronic applications in renewable energy systems, on-the-move technologies, and micro-grids research areas. He has over 15 years of industrial and academic experience in conceptualization, development and analysis of various modern energy conversion systems. His current research focus is on design and analysis of single-stage boost inverters for solar and wind energy systems, fault-tolerant inverters for electric vehicles, and dynamics and control of inverters for voltage and frequency stability in micro-grids.
Academic highlights
Professor Mirafzal is the the author a textbook entitled "Power Electronics in Energy Conversion Systems" published by McGraw Hill, author or co-author of more than 100 IEEE transactions and IEEE international conference papers, and holds four U.S. patents. He is the recipient of a 2014 NSF CAREER Award, a 2012 NSF EPSCoR First award, the 2012 IEEE-PES Transactions Best Paper Award, the 2008 IEEE-IAS Transactions Second Best Paper Award, and an Innovation Award from Rockwell Automation in 2006. He has served as an IEEE senior member since 2007, an associate editor of IEEE Transactions on Industry Applications since 2011, the technical co-chair of the IEEE IEMDC International Conference in 2009 and the technical co-chair of the NAPS Conference in 2013. He is an active member of IEEE Industry Applications, IEEE Power Electronics, IEEE Industrial Electronics, and IEEE Power and Energy Societies.