Punit Prakash | Associate Professor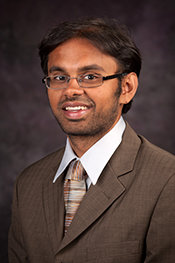 Paul L. Spainhour Professorship in Electrical Engineering
Michelle Munson-Serban Simu Keystone Research Scholar
Ph.D. - 2008, University of Wisconsin-Madison
Biomedical Engineering
M.S. - 2006, University of Wisconsin-Madison
Biomedical Engineering
B.S. - 2004, Worcester Polytechnic Institute
Electrical and Computer Engineering
Contact information
3078 Engineering Hall
785-532-5600
prakashp@k-state.edu
Biomedical Computing Device Laboratory website
Professional experience
Prakash received a Bachelor of Science in Electrical and Computer Engineering from Worcester Polytechnic Institute in May 2004. He received a doctorate in Biomedical Engineering from the University of Wisconsin-Madison in August 2008. In October 2008, he joined the Department of Radiation Oncology at the University of California, San Francisco (UCSF) as a postdoctoral scholar, and subsequently conducted in research in the same department as a Research Specialist in Fall 2009. Prakash joined the Department of Electrical and Computer Engineering at Kansas State University as an Assistant Professor in Fall 2012, and was promoted to Associate Professor (with tenure) in 2018. Prakash is an affiliate of the K-State Johnson Center for Cancer Research.
Research
Prakash directs research in the Biomedical Computing and Devices Lab (BCDL), which he established once joining K-State in August 2012. BCDL's research is focused on developing technologies for enabling precise image-guided medical interventions. Current research thrusts include: (i) development of electromagnetic (microwave/RF) and acoustic devices for controlled delivery of therapeutic energy; (ii) integration of therapeutic/diagnostic instrumentation with MRI to enable imaging-based feedback-controlled interventions; and (iii) model-based predictive planning of cancer thermal therapy (ablation and hyperthermia). BCDL's major research accomplishments include the development of the first integrated platform for pre-clinical microwave thermal therapy investigations in small animals under 14 T ultra-high field MRI guidance, and the design and in vivo experimental demonstration of a device affording directional control of microwave radiation for precise thermal ablation of tumors. Our research is highly interdisciplinary and is motivated by unmet clinical needs. Research in the BCDL is funded by support from the National Institutes of Health (NIH), National Science Foundation (NSF), and the medical imaging/device industry.
Academic highlights
Prakash has authored and/or co-authored over 45 peer-reviewed journal publications and over 50 conference presentations, and is a co-inventor on several patents. He served as elected Chair of the IEEE Engineering in Medicine and Biology Society's Technical Committee on Therapeutic Systems and Technologies (2016-17). He is a member of the Editorial Board of the International Journal of Hyperthermia, and co-edited a special issue on microwave ablation technologies for cancer treatment (January 2017). Prakash is a recipient of the K-State College of Engineering Outstanding Assistant Professor award (2017), Innovative Research Award from Johnson Cancer Research Center (2012 and 2014), and the K-State Faculty Development Award (2012). His research students have received Young Investigator Awards from the Society of Thermal Medicine (2014 and 2015). At K-State, Prakash collaborates closely with colleagues from engineering, chemistry, veterinary medicine, and mathematics.