Steve Warren | Professor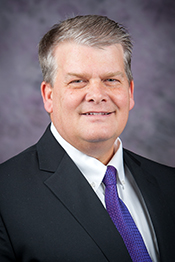 Robert and Becca Reichenberger Cornerstone Teaching Scholar
Ph.D. - 1994, The University of Texas at Austin
Electrical Engineering
M.S. - 1991, Kansas State University
Electrical Engineering
B.S. - 1989, Kansas State University
Electrical Engineering
Contact information
3084 Engineering Hall
swarren@k-state.edu
Professional experience
Steven Warren is a professor in the Mike Wiegers Department of Electrical and Computer Engineering (ECE) at Kansas State University. He received a Bachelor of Science and Master of Science in Electrical Engineering from K-State in 1989 and 1991, respectively, followed by a doctorate in electrical engineering from The University of Texas at Austin in 1994. Prior to joining K-State in August 1999, Warren was a post-doctoral member, senior member and then principal member of the technical staff at Sandia National Laboratories in Albuquerque, New Mexico. In 2002, Warren was promoted to associate professor with tenure at K-State. He since joined the K-State department of gerontology as an adjunct faculty member and was promoted to professor in 2017.
Warren is a member of the Institute of Electrical and Electronics Engineers (IEEE) and the IEEE Engineering in Medicine and Biology Society (EMBS). Since 2005, he has served as the faculty adviser for the K-State IEEE EMBS student chapter. Warren is also an active member of the American Society for Engineering Education (ASEE) and serves as the ASEE campus representative for the K-State Carl R. Ice College of Engineering. He is the past chair of the ASEE Midwest Section and was the chair of the 2016 ASEE Midwest Section Conference. Warren is the senior member on the K-State internal review board (since 2000), serves on the Goldwater Selection Committee and has completed two terms for the K-State Presidential Lecture Series. He served six years on the Heartspring Board of Trustees, and has been an expert witness in litigation cases related to telemedicine and pulse oximetry
Research
Warren is the director of the K-State Medical Component Design Laboratory, a facility that supports research efforts in (1) plug-and-play medical monitoring systems that use interoperability standards, (2) wearable sensors and signal processing techniques to determine human/animal health, and (3) the creation and assessment of classroom technologies and techniques that enhance student learning. Since 1999, he has been an investigator on over 50 grant-funded efforts totaling nearly $12M. Primary funding has been provided by the National Science Foundation (NSF CAREER, ITR, DUE, EEC, CRI, SIR, REESE, CCLI/TUES, CPS, & GARDE programs), supplemented by grants from NASA, the National Institutes of Health, K-State, and corporate partners. He has authored 134 peer-reviewed publications, 13 book chapters/reports, and numerous other publications and presentations. Warren has been the major professor for 30 graduate students, served on 42 graduate committees and mentored 58 undergraduate research students, including underrepresented students supported by the Developing Scholars and KS-LSAMP initiatives. On-campus research partners for these efforts have involved faculty in at least 22 departments within seven K-State colleges.
Teaching
Warren teaches biomedical instrumentation, signals and systems, and computational methods courses, and he helps to manage the Bioengineering Option within the undergraduate Electrical Engineering curriculum. He has worked with nearly 2,000 students as an instructor of ECE 410 – Circuit Theory I, ECE 511 – Circuit Theory II, ECE 512 – Linear Systems, ECE 571 – Introduction to Biomedical Engineering, ECE 636 – Computer Graphics, ECE 690 – Independent Design, ECE 772/3 - Bioinstrumentation, and ECE 840 – Computational Methods. The linear systems courses, in particular, have been supported by nine years of consistent NSF funding (with K-State math and physics) to study concept retention. This work produced online homework modules used for over 10 years. NSF-funded portable instrumentation kits designed by Warren's students have been employed in multiple courses, and ECE has used NSF RAPD funds for six years to support college-wide design projects to aid severely disabled autistic children.