Graduate Programs
The Mike Wiegers Department of Electrical and Computer Engineering offers a Master of Science in Electrical and Computer Engineering and Doctor of Philosophy in Electrical and Computer Engineering.
Areas of specialization

Degrees
Doctor of Philosophy
The doctorate program is a research-oriented curriculum and requires 60 hours beyond the master's degree, including original research of sufficient quality and importance to merit publications in refereed journals. Graduates of the program find employment in national laboratories, academic institutions, government facilities and private industries.
Master of Science
At the master's level there are three options: thesis, report and coursework only. The course work only option is available as an online program for distance students and offers specializations in either power engineering or communications and network science. All require a minimum of 30 hours of credit.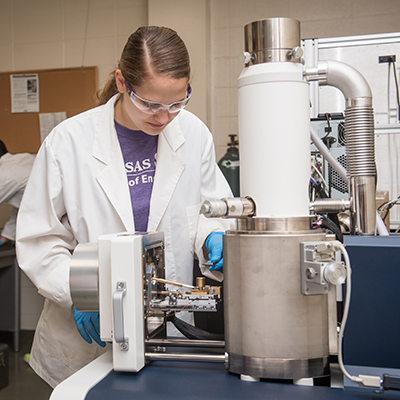 Research facilities
The department is located in Engineering Hall, a 100,000-square-foot facility designed to provide an excellent academic environment. There are numerous well-equipped instructional and research laboratories including the Biomedical Computing and Devices Lab, Communications Circuits Lab, Digital Systems Lab, Electronic Circuits Lab, Energy Systems Lab, Microcomputer Lab, Medical Component Design Lab, Nano/Micro Fabrication Lab, Power Electronics Lab and Wireless Hardware Design Lab. Extensive networked computing resources are available to the department.
Graduate program coordinator
3108 Engineering Hall
1701D Platt St.
Manhattan, KS 66506-5200
785-532-5600
grad@ece.ksu.edu