Ruth Dyer | Senior Vice Provost for Academic Affairs Emeritus and Professor of Electrical and Computer Engineering Emeritus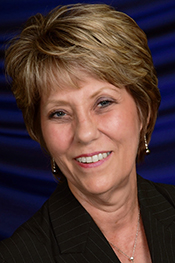 Ph.D. - 1980, University of Kentucky
Mechanical Engineering
M.S. - Kansas State University
Biochemistry
B.S. - Kansas State University
Biochemistry
Contact Information
3007 Pawnee Circle
Manhattan, KS 66502
rdyer@k-state.edu
Professional Experience
Ruth Dyer is senior vice provost for academic affairs emeritus and professor of electrical and computer engineering emeritus, having retired in 2018 after 35 years of service at Kansas State University.
Prior to her employment here, she was an instructor in the department of electrical engineering at the University of Kentucky and worked as the customer support manager for MicroSystems Engineering Inc. in Lexington, Kentucky. She joined Kansas State University in 1983 as an assistant professor in what was then called the department of electrical engineering and was promoted to full professor in 1997. She taught courses in the areas of linear systems, control systems and digital signal processing.
During her time as an active faculty member, she received numerous awards for her teaching, research and service, including the Outstanding Kansas State University Instructors and Advisors Award from the Kansas State University Mortar Board Senior Honor Society, 1997; the Kansas State University College of Engineering James L. Hollis Award for Excellence in Undergraduate Teaching, 1996; the Kansas State University College of Engineering Paslay Award for Outstanding Teaching and Research, 1994; and the Kansas State University Eta Kappa Nu Distinguished EECE Faculty Member Award, 1986 and 1994.
Since 1998, Dyer has held several administrative positions in the Office of the Provost, most recently serving from 2010-18 as the senior vice provost for academic affairs. In this role, she coordinated activities and initiatives related to university academic policies and procedures, curriculum and program development, and academic personnel. She also coordinated academic initiatives with the Kansas Board of Regents such as new degree-program proposals, collaborative programs with other regents' institutions, transfer and articulation processes, and distance-education issues. She also led several major university-wide initiatives such as the NCAA Third-Cycle Certification, University Campus Master Plan, North Campus Corridor Master Plan and University-Wide Climate Survey. In addition, she directed the Dual Career Program, which provides employment assistance to partners of university faculty and staff, and she oversaw the Kansas State University Advancement of Women in Science and Engineering Office, which provides networking and support programs to women students and faculty members.
In her administrative work over the past 20 years, she provided extensive committee and leadership experience through her service on more than 190 university committees, serving as chair for more than 60 of those.
At the national level, she served as a Higher Learning Commission peer reviewer, 2008-15; and as one of the facilitators of the Women's Leadership Network funded by the Sloan Foundation, 2008-10.
Research
Dyer's scientific and engineering research interests have been primarily in the areas of control systems, digital signal processing and biomedical engineering. Most of this research has been interdisciplinary in nature and she has worked with colleagues from several different departments and colleges at Kansas State University. These research projects have been funded by the American Heart Association, National Aeronautics and Space Administration, and National Science Foundation.
She also has led numerous outreach and engagement programs. In 1999, she obtained a National Science Foundation grant to develop outreach activities for girls in middle school. The resulting program was called Girls Researching Our World, or GROW, a program that continues today providing intensive hands-on experiences geared toward science and engineering.
In 2003, she received a $3.5 million NSF ADVANCE grant to enhance opportunities for women faculty members in science and engineering disciplines. At the conclusion of the ADVANCE grant in 2010, Dyer was a leader in creating the Kansas State University Advancement of Women in Science and Engineering Office. This office provides university programs for middle-school girls, undergraduate and graduate students, postdoctoral fellows, faculty and administrators. Dyer provided oversight to this office until her retirement from the university in 2018, but she is still active in providing guidance to its current programs.
Academic Highlights and Other Service Activities
Dyer was one of 36 individuals selected as an American Council on Education (ACE) Fellow in 2003–2004. During that year, she served at The Ohio State University in the Office of the President, Office of Academic Affairs Leadership, and Office of the Vice President for Government Relations.
In 2006, she was selected as on one of seven individuals from across the United States as a Fellow of the Association of Women in Sciences.
Dyer was elected a Fellow of the IEEE in 2008, with the following citation: "For contributions to diversity in science and engineering education, and Hadamard-transform spectrometers." She received the designation as an IEEE Life Fellow in 2019.
She has been actively involved in the IEEE Instrumentation and Measurement Society (IMS) since 1989 and has served three four-year terms — 1999-2002, 2003-2006 and 2008-2011 — as an elected member of the IMS Administrative Committee. She served as the general program co-chair for the 2010 International Instrumentation and Measurement Technology Conference (I2MTC), served as the technical program co-chair for the 2011 I2MTC, and was a guest editor for the I2MTC 2011 special issue of the IEEE Transactions on Instrumentation and Measurement, published in 2012. She also served for a number of years as a member of the I2MTC Board of Directors. She recently served as the guest editor of the June 2018 issue of the IEEE Instrumentation and Measurement Magazine, whose focus was The Role of I&M in STEM Education.
Dyer has held several leadership roles in the IMS, including vice president for membership, vice president for publications, vice president for finance, and executive vice president. She served two terms (2016, 2017) as the president of the IEEE IMS, and currently is serving as its junior past president.
In 2011, she was selected to receive the IEEE Instrumentation and Measurement Society's Distinguished Service Award.
At the IEEE level, she served on the IEEE Technical Activities Board (2016-2017), the IEEE TAB AdHoc Financial Transparency Committee (2016-2017), the IEEE Joseph F. Keithley Award in Instrumentation and Measurement Committee (2010–2013), as the IMS representative to the IEEE Women in Engineering Committee (2006–2010), and as the IMS representative to the IEEE Society on Social Implications of Technology (1995–2007). In 2017, she was appointed to serve on the IEEE TAB AdHoc Committee on Design for Ethics, and in 2018, she was appointed to serve on the TAB AdHoc Committee on Contracts. She is currently serving as the Chair of the IEEE Council on Radio Frequency Identification (CRFID) Advisory Committee.
Dyer served on the board of directors of the Rocky Mountain Bioengineering Symposium (RMBS) (1986–2001), as program chair for the 31st RMBS (1994), and as editor for the Conference Proceedings of the 31st RMBS (1994).
She also is active in her community, serving on the board of directors for the Mercy Community Health Foundation in Manhattan, Kansas (2013–2019), and the board of directors for the Ecumenical Campus Ministry at Kansas State University (2019-2022).
In 2013, she was selected for induction into the University of Kentucky (UK) College of Engineering Hall of Distinction, and she currently serves on the UK Engineering Dean's Advisory Council.